If you have a testimonial or picture you would like placed on this site please send it to me.

Dorn Johnson   (West Liberty Kentucky)

"I put my pup on a live quail she did great. She pointed the bird and held it.I picked up the quail and went to put it up was gone about 8 mins and when i came back she was still pointing where it had been lol."

              At the time of this testimonial the pup was 10 weeks old.

David Moore    (Knoxville Tenn.)

"It was so exciting to see her natural instincts come out. These two pictures are of Angel's first point with her leg up. Just thought you'd be interested."

                  At the time of this testimonial the pup was 10 weeks old.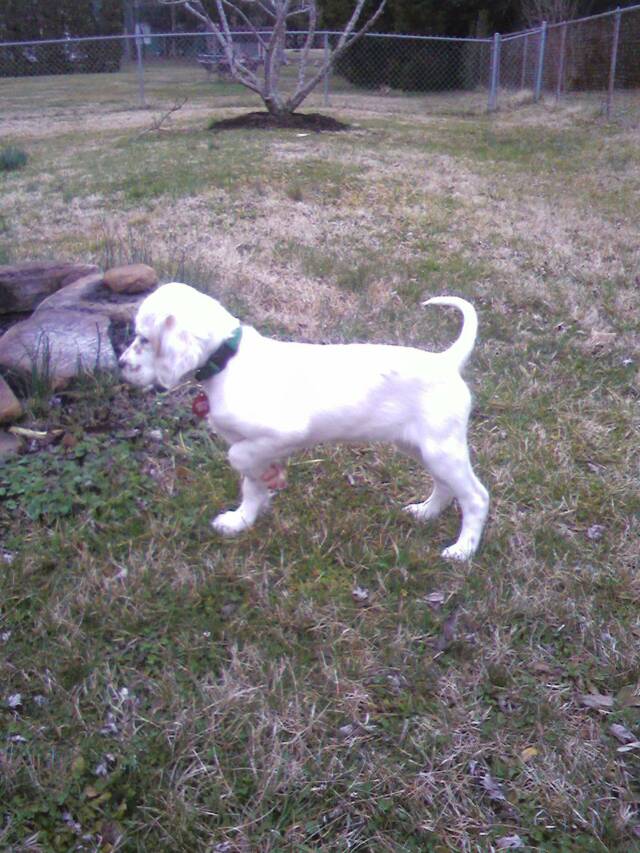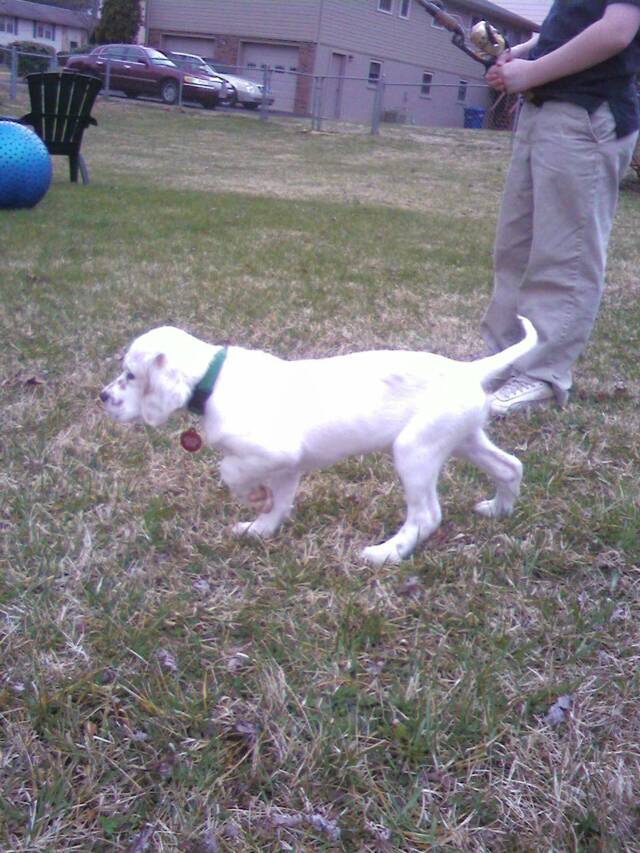 Kevin Feguson  (West Liberty Ky)

     "Hey I was wondering if you was still going to shoot birds this spring. I would            like to bring clyde so I could show you how well he is doing. I got him on live              birds he is pointing and holding and getting better at retrieving"

       Kevin and a family member purchased 2 puppies (Bonnie & Clyde)  I have great reports on              both puppies. At the  time of this report their pups are 10 weeks old. Can't wait to do some            release and shoot with these pups.

    Jimmy Cantrell       (Grouse Mountain Setters)

   Chess is 11 weeks old and doing an outstanding job pointing on her own. She       already is showing tremendous drive and a desire to hunt. All it takes is the              slightest scent of a bird and she freezes. Even as such a young pup, when in          the field she wants to hunt for scent and not play as many pups do.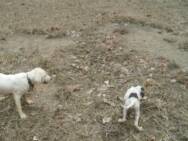 To the left is Chess (English Setter) on point with Sophie, a 5 month old Llewellin Setter naturally Honoring her point and backing her.

(I have to brag some on the ones I keep also guys...)

Terry Waldvogel     (Wisconsin)

Thank you for the pup she is everything that you         could look for in a pup and then some she is                perfect.

Terry Waldvogel     (Wisconsin)

Jimmy had the dog out on birds. Grace Pointed her first bird and she was solid on point and didn't even move she is going to be a special dog. I seen a lot of pups but not like her it was a class high tail and head point thank you so much for that pup.

Terry

Terry is an great individual and knows some things about dogs due to his work as a Grouse Field Trial Judge.

  Katie      (Hawaii)

Jimmy, Zues is an amazing dog. My husband loves       him. I have never seen a more loving and kind dog.       My husband says he is the best upland dog he has       ever seen for its age. It has now learned to properly      heal to the horses as thats the way we hunt. Just an     amazing dog. When we return to the farm we will fly     him with us and bring him to see you. Thanks so          much for a wonderful dog.

Johnny Perry    (Kentucky)

This testimonial comes from a telephone conversation  between myself and my hunting buddy and not              entered by Johnny. He was in The U.P. of Michigan for  an early grouse season of 2010.

King has a nose for game, he just loves it. He was          solid on his first 2 grouse he ever encountered and        shot one down for him. He picked it up and paced          back and forth with it in his mouth and head held high  just like he was so proud of what he had just done.

Steve Lucas     (Columbus Ohio)

WOW!!!! Thats all I can say. I have seen bird dogs but    this is a BIRD DOG. I want another. I will be using this   dog as a hunting dog its very first season. Just              unbelievable.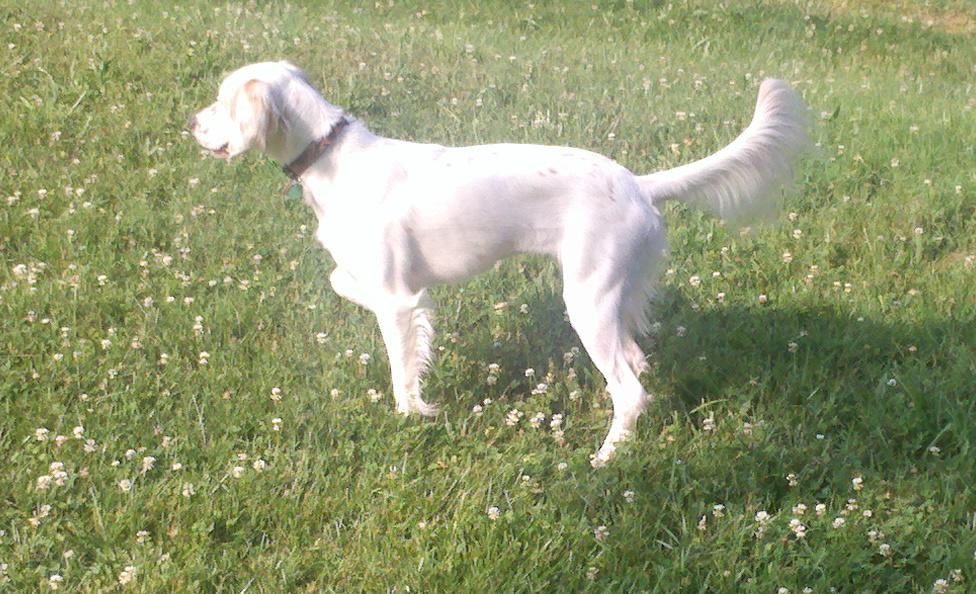 This is a picture of Jasmine on a pen raised bird she is very         smart and has the best nose of any dog have ever owned.

Tom Underwood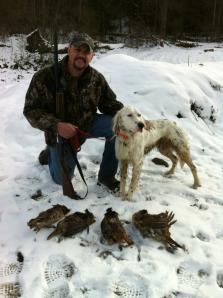 "Rowdy did a fine job. My brother did too. He is a great shot. He got two, I got one, and one we both shot at the same time. He probably got it. Jimmy, you would have been proud of Rowdy. He retrieved three of them to us

like an old pro. I was too happy. He is a hunting machine."

Rowdy went to Mike Raynes in West Virginia and was a great placement for this pup. Rowdy is from Belle and Hank and is 2 years old when this picture was taken on February 13th 2012. Mike is a wonderful person and is considered a great friend. Mike and Rowdy will have many more years of great hunting ahead of them in the Grouse woods.